Contractors are feverishly working to complete the first batch of two-bedroom low-income units in Region Three (Essequibo Islands-West Demerara), as the Ministry forges ahead with its housing drive to ease the backlog of applicants.

On Monday morning, Minister of Housing and Water, the Hon. Collin Croal; Republic Bank's Managing Director, Mr. Stephen Grell; Permanent Secretary Mr. Andre Ally, Chief Executive Officer of the Central Housing and Planning Authority, Mr. Sherwyn Greaves toured the two locations where the houses are being built.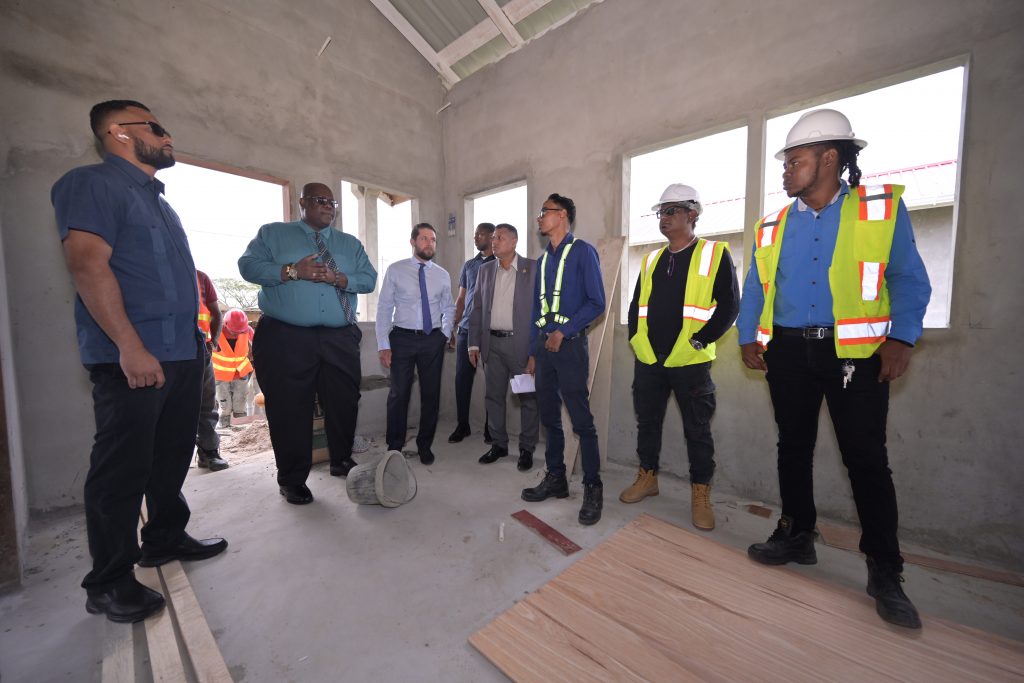 While the units are all in various stages of completion, Minister Croal noted that within the coming weeks, some 20 beneficiaries are expected to be presented with the keys to their new home. The Minister also lauded the work of the contractors, as he expressed his satisfaction with the quality of work being done on the units.
"So, this is just not a happy moment for the beneficiaries but these activities stimulate growth in economic activities, we are talking about job creation for skilled workers, the transportation sectors and the list goes on".

Meanwhile Mr. Greaves also expressed his satisfactory with the progress of the project, noting that even as contractors continue to work on the units, the agency has begun the beneficiary selection process from its database. Already a number of persons who had indicated their interest in the units have been sent to commercial banks to be pre-qualified for the homes.

"We've been working with, persons to ensure that they pre-approved so as to ensure they can get in their homes as quickly as possible as we see the rapid development of communities as a significant benefit to the region's economy".
One of the homes under constructionRepublic Bank-Managing Director also on the occasion, noted his pleasure with the pace at which the works are going. He said that the Bank is pleased to be a part of a venture of this nature and aid the Government in its housing drive.
The 600 sqft. units are being constructed on lands valued at $300,000 while the units are being sold for $5.2 M and feature two 10×10 ft bedrooms with toilet and bath.
Back in July 2022, an MOU was inked between the Ministry of Housing and Water-Central Housing and Planning Authority for the construction of 500 low-income housing units in Region Three. The units are being constructed at Anna Catherina, Edinburg and Leonora, West Coast Demerara.